L*O*V*E** L*I*E*S
B*L E E D I N G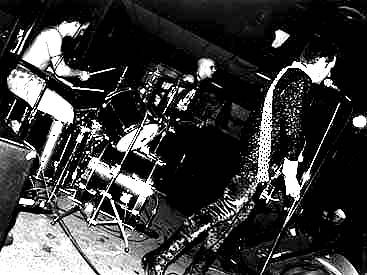 D*A*Y*T*O*N
O*H*I*O
STEVEN GULLETT
GUITAR & VOCALS
GEORGE BRADLEY
BASS & VOCALS
JIMMY MAGNUSON
DRUMS


- A BRIEF HISTORY -
Formed in Fall of 1995 by Jimmy Magnuson, George Bradley (Sourbelly, Tim, The Migraines, the Jackalopes), & Steven Gullett (Freakstrobe,solo) this band shook things up around Dayton before personality clashes sent things into the grave. Musically a blend of Steven's solo songs turned into band arrangements in the vein of Chainsaw Kittens & his obvious Stooges/Glam influences mixed with George's Ramones/Pop Punk leanings and the no nonsense punk sensabilty of Mr. Magnuson.Together for a mere 9 months Love Lies Bleeding played over 40 shows around the midwest thanks to the booking prowess of Mr. Bradley. They shared bills with THE CHICKENHAWKS (Iowa), CRAW (Cleveland), & opened a GUIDED BY VOICES record release show with only 5 hours notice.
The skeletons of many a MYSTERY ADDICTS song were scraped together during this period including "Imitation Roses", "Godless", "Zero", "Hanging the Jester" and "Anorexic Teenage Sex Gods". This was also Mr. Gullett's first outing on the electric guitar having only previously played solo acoustic gigs (which he continues to do to this day). "I learned a lot in that nine months about playing live and sheer catharsis", Steven Gullett. You'll also hear some of these musical bits crop up in Mr. Bradley's next creative endeavour THE JACKALOPES.

The band released one full length cassettte "UNDER THE GLOSS" & a split cassette single w/ NOSTROMO.
Things were not meant to be and the band broke up August 8th in Detroit where they were scheduled to play a show. Their last gig together was at the Aardvark/Sub Galley 2 days earlier opening a bill with Jeff Dahl & The Trash Brats.


- MUSIC -


- LYRICS -


- FLYERS -


- THE GOODBYE PRESS -
"LOVE LIES BLEEDING wasn't together very long but the glam-punk trio managed make some people take notice during its existence. The band released a split cassette with Nostromo on the Psionic label and a 10-song cassette, Under the Gloss, within days of each other. Things were looking bright when suddenly everything fell apart. Within weeks Love Lies Bleeding had called it quits amid rumors of fistfights and missing eye shadow. Singer/guitarist Steven Gullett has formed the new band Hanging Party for one show only. You can see Gullett and friends at Canal Street later this month opening up for Too Much Joy and The Jezebelles. Look for bassist GeorgeBradley and drummer Jimmy Magnuson to continue on in some altered form. "
- Don Thrasher


STAR HEARTLESS RECORDS | THE MYSTERY ADDICTS | STEVEN GULLETT | THE JACKALOPES | THE STORY CHANGES